Are you stuck for ideas with your Christmas Shopping ? Well I am … it is truly hell on earth ! I have no idea what to buy anyone (except crafting family members and friends), and I hate being stuck in queues and being pushed and shoved around ! Is it bad for you too ? Well read below at some of my suggestions for gorgeous Stampin' Up! gifts for both crafters AND non-crafters … and I guarantee, you will NOT be pushed or shoved, and you won't have to stand in a queue !
The Envelope Board is THE hottest tool around and does a lot more than just make envelopes !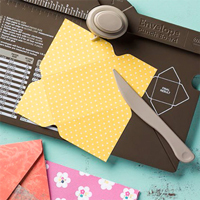 Envelope Punch Board – only £17.95 (133774)
Check out this YOU TUBE search HERE which shows you just how many different projects you can make with this amazing tool – I love it !
I made the inside pages of this mini album using the envelope board and spare journalling/photo pages … cute eh?!
Journalling/Albums
If you haven't got the time to make your own album as a gift, then how about buying the Season of Style Journal with co-ordinating journalling cards and stickers – OR – the Season of Style Scrapbook Album for those people who take lots of photographs. With divided page protectors and co-ordinating journalling cards, this album is quick and easy to put together – and a great reminder of Christmas with friends or family.
This is a photograph of my This & That Journal, which I have used throughout the year to journal different events and occasions – its always to hand … and I confess … it does have shopping lists, and reminder notes to myself written in it too !!
If you still can't decide what to buy – then why not give bundles some consideration ? With a 15% discount given off the price, these are great on the purse as well. Current bundles include :-
Bundles
Chalk Talk Stamp Set & Framelits bundle – page 12
Label Love Stamp Set & Artisan Label punch – page 32 & 33
Backyard Basics Stamp Set & Framelits – page 79
Wildflower Meadow Stamp Set & Embossing Folder – page 83
Flower Shop Stamp Set & Pansy Punch – page 94 & 95
Beautifully Baroque Stamp Set & Embossing Folder – page 113
Mosaic Madness Stamp Set & Mosaic Punch – page 123
Six Sided Sampler Stamp Set & Matching punch – page 125
Tag a Bag AND Tag a Box Bundle – page 158 & 159
AND … if you STILL can't find anything, then why not consider giving a Stampin Up! gift voucher, all beautifully wrapped by me ! I will provide you with a gift voucher of any £5 denomination, I can personalise it and then wrap it up Stampin' Up! style for you.
As always, if you would like to place an order, or if you have any questions or queries, then please contact me on carole.bryson@gmail.com OR to order your gifts/products online, then please visit my online shop HERE
Happy Shopping ! Cal xxxxxxx